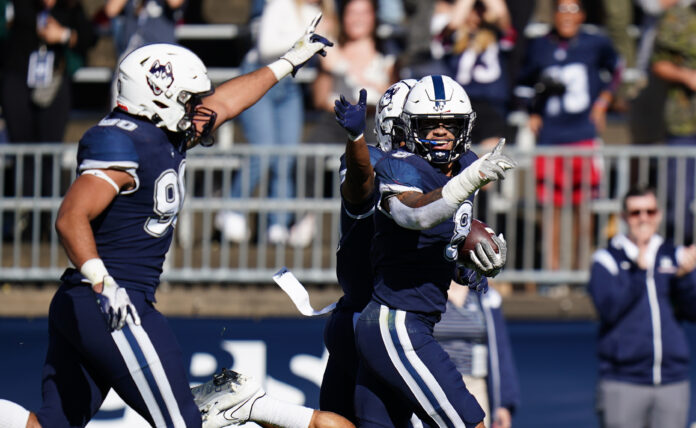 The end of the college football season has officially brought our 2022 college football All-Americans across the nation. With the launch of College Football Network here, our first annual CFN All-Americans, All-Conference, and individual/team awards are live across the landscape.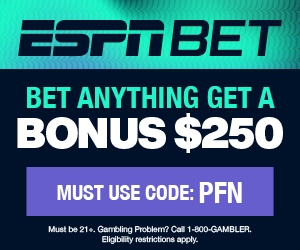 2022 College Football Honors
MC Trophy
Jackson Mitchell, LB, UConn
Best Offensive Player
Olusegun Oluwatimi, C, Michigan
Best Defensive Player
Emmanuel Forbes, CB, Mississippi State
National Coach of the Year
Jim Harbaugh, Michigan
Offensive Rookie of the Year
Quinshon Judkins, RB, Ole Miss
Defensive Rookie of the Year
Malaki Starks, S, Georgia
Walk-On Wins Award
Carlton Martial, LB, Troy
The MC Trophy is given to the best player in college football who exemplifies hard work, dedication, grit, tenacity, and never settling for anything less than his best, like that of PFN Co-Founder and CEO Matt Cannata.
Quarterback of the Year
Caleb Williams, USC
Running Back of the Year
DeWayne McBride, UAB
Wide Receiver of the Year
Jalin Hyatt, Tennessee
Tight End of the Year
Dalton Kincaid, Utah
Offensive Line of the Year
Oregon Ducks
Offensive Lineman of the Year
Olusegun Oluwatimi, C, Michigan
Offensive Tackle of the Year
Olumuyiwa Fashanu, Penn State
Interior Offensive Lineman of the Year
Olusegun Oluwatimi, Michigan
Defensive Line of the Year
Washington Huskies
Edge Defender of the Year
Tuli Tuipulotu, USC
Interior Defensive Lineman of the Year
Calijah Kancey, Pittsburgh
Linebacker of the Year
Ivan Pace Jr., Cincinnati
Cornerback of the Year
Emmanuel Forbes, Mississippi State
Safety of the Year
Jason Taylor II, Oklahoma State
Secondary of the Year
Illinois Fighting Illini
Kicker of the Year
Joshua Karty, Stanford
Punter of the Year
Tory Taylor, Iowa
Kick Returner of the Year
Johnnie Lang, Arkansas State
Punt Returner of the Year
Anthony Gould, Oregon State
Special Teamer of the Year
Yusuf Ali, Middle Tennessee
College Football Network's 2022 College Football All-Americans
First-Team Offense
QB: Caleb Williams, USC
RB: DeWayne McBride, UAB
RB: Bijan Robinson, Texas
WR: Nathaniel Dell, Houston
WR: Jalin Hyatt, Tennessee
WR: Marvin Harrison Jr., Ohio State
TE: Dalton Kincaid, Utah
OT: Olumuyiwa Fashanu, Penn State
G: Cooper Beebe, Kansas State
C: Olusegun Oluwatimi, Michigan
G: Brandon Kipper, Oregon State
OT: Rashad Green, Tulane
FLEX: Blake Corum, Michigan
First-Team Defense
EDGE: Owen Porter, Marshall
EDGE: Tuli Tuipulotu, USC
DT: Calijah Kancey, Pittsburgh
DT: Jalen Carter, Georgia
LB: Ivan Pace Jr., Cincinnati
LB: Jackson Mitchell, UConn
LB: Carlton Martial, Troy
CB: Emmanuel Forbes, Mississippi State
CB: Clark Phillips III, Utah
CB: Quinyon Mitchell, Toledo
S: Jason Taylor II, Oklahoma State
S: Marcus Fuqua, Buffalo
FLEX: Sydney Brown, Illinois
First-Team Special Teams
Kicker: Joshua Karty, Stanford
Kickoff Specialist: Jake Moody, Michigan
Punter: Tory Taylor, Iowa
Kick Returner: Johnnie Lang, Arkansas State
Punt Returner: Anthony Gould, Oregon State
Special Teamer: Yusuf Ali, Middle Tennessee
Second-Team Offense
QB: Hendon Hooker, Tennessee
RB: Mohamed Ibrahim, Minnesota
RB: Chase Brown, Illinois
WR: Charlie Jones, Purdue
WR: Xavier Hutchinson, Iowa State
WR: Rashee Rice, SMU
TE: Oronde Gadsden II, Syracuse
OT: Connor Galvin, Baylor
G: Isaiah Adams, Illinois
C: Sedrick Van Pran, Georgia
G: D'Mitri Emmanuel, Florida State
OT: Darnell Wright, Tennessee
FLEX: Israel Abanikanda, Pittsburgh
Second-Team Defense
EDGE: Darius Hodges, Tulane
EDGE: Jose Ramirez, Eastern Michigan
DT: Jer'Zhan Newton, Illinois
DT: Dante Stills, West Virginia
LB: Tommy Eichenberg, Ohio State
LB: Daiyan Henley, Washington State
LB: Drew Sanders, Arkansas
CB: Devon Witherspoon, Illinois
CB: Christian Gonzalez, Oregon
CB: Kelee Ringo, Georgia
S: Jammie Robinson, Florida State
S: Kamren Kinchens, Miami (FL)
FLEX: JaQues Evans, WKU
Second-Team Special Teams
Kicker: Christopher Dunn, NC State
Kickoff Specialist: Will Stone, Texas
Punter: Bryce Baringer, Michigan State
Kick Returner: Brian Battie, USF
Punt Returner: Eric Garror, Louisiana
Special Teamer: Jermal Martin Jr., Wake Forest
Third-Team Offense
QB: Michael Penix Jr., Washington
RB: Kendre Miller, TCU
RB: Brad Roberts, Air Force
WR: Keylon Stokes, Tulsa
WR: Zakhari Franklin, UTSA
WR: Zay Flowers, Boston College
TE: Brock Bowers, Georgia
OT: Broderick Jones, Georgia
G: Jarrett Patterson, Notre Dame
C: Jacob Gall, Baylor
G: Zak Zinter, Michigan
OT: Malaesala Aumavae-Laulu, Oregon
FLEX: Tyjae Spears, Tulane
Third-Team Defense
EDGE: Viliami Fehoko, San Jose State
EDGE: Bralen Trice, Washington
DT: Dom Peterson, Nevada
DT: DeWayne Carter, Duke
LB: Jack Campbell, Iowa
LB: Dorian Williams, Tulane
LB: Nick Anderson, Tulane
CB: Ridge Texada, North Texas
CB: Cam Lockridge, Fresno State
CB: Yam Banks, South Alabama
S: Christopher Smith, Georgia
S: Macon Clark, Tulane
FLEX: Eric Gentry, USC
Third-Team Special Teams
Kicker: Griffen Kell, TCU
Kickoff Specialist: Eddie Czaplicki, Arizona State
Punter: Bryce Baringer, Michigan State
Kick Returner: Jaylin Lucas, Indiana
Punt Returner: Nikko Remigio, Fresno State
Special Teamer: Tommy Eckels, Vanderbilt
Honorable Mention Offense
QB: C.J. Stroud, Ohio State
QB: Frank Harris, UTSA
QB: Max Duggan, TCU
RB: Carson Steele, Ball State
RB: Quinshon Judkins, Ole Miss
RB: Xazavian Valladay, Arizona State
RB: Khalan Laborn, Marshall
RB: Zach Charbonnet, UCLA
RB: Jordan Mims, Fresno State
WR: Malachi Corley, Western Kentucky
WR: Tory Horton, Colorado State
WR: Jalen Moreno-Cropper, Fresno State
WR: Josh Downs, North Carolina
WR: Elijah Cooks, San Jose State
WR: Kris Thornton, JMU
WR: Dorian Singer, Arizona
WR: Devontez Walker, Kent State
WR: Puka Nacua, BYU
TE: Michael Mayer, Notre Dame
TE: Seydou Traore, Arkansas State
TE: Payne Durham, Purdue
FLEX: Raheim Sanders, Arkansas
FLEX: Brian Battie, USF
FLEX: La'Damian Webb, South Alabama
OT: Blake Freeland, BYU
OT: Marcellus Johnson, Eastern Michigan
OT: Paris Johnson Jr., Ohio State
G: Dillan Gibbons, Florida State
G: Steve Avila, TCU
G: Nick Broeker, Ole Miss
C: Alex Forsyth, Oregon
C: Sincere Haynesworth, Tulane
C: Ahofitu Maka, UTSA
G: O'Cyrus Torrence, Florida
G: Kyle Hergel, Texas State
G: Christian Haynes, UConn
OT: Andre Harris Jr., Duke
OT: Dawand Jones, Ohio State
OT: Christian Duffie, Kansas State
Honorable Mention Defense
EDGE: Jared Verse, Florida State
EDGE: Will Anderson Jr., Alabama
EDGE: Karl Brooks, Bowling Green
DT: Ricky Barber, UCF
DT: Jonah Tavai, San Diego State
DT: Levi Bell, Texas State
DT: Brandon Dorlus, Oregon
DT: Jaquelin Roy, LSU
DT: Braden Fiske, Western Michigan
EDGE: Durrell Johnson, Liberty
EDGE: Isaac Ukwu, JMU
EDGE: Jordan Ferguson, Middle Tennessee
LB: Noah Sewell, Oregon
LB: Harold Perkins, LSU
LB: KD Davis, North Texas
LB: Shaun Dolac, Buffalo
LB: Austin Ajiake, UNLV
LB: Charlie Thomas, Georgia Tech
LB: Cedric Gray, North Carolina
LB: Anfernee Orji, Vanderbilt
LB: James Patterson, Buffalo
CB: Cooper DeJean, Iowa
CB: Christian Braswell, Rutgers
CB: Julius Brents, Kansas State
CB: Rejzohn Wright, Oregon State
CB: Kool-Aid McKinstry, Alabama
CB: Davonte Brown, UCF
CB: Amechi Uzodinma II, Ball State
CB: Steven Jones Jr., App State
CB: Benjamin Morrison, Notre Dame
S: Tyler Nubin, Minnesota
S: Clifford Chattman, UTSA
S: JL Skinner, Boise State
S: Robert Rahimi, Liberty
S: Malaki Starks, Georgia
S: John Torchio, Wisconsin
FLEX: Kahlef Hailassie, Western Kentucky
FLEX: Bentlee Sanders, Nevada
FLEX: Brian Branch, Alabama
Honorable Mention Special Teams
Kicker: Will Reichard, Alabama
Kicker: Daniel Gutierrez, UNLV
Kicker: Gavin Baechle, UTEP
Kickoff Specialist: Jack Bates, Arkansas
Kickoff Specialist: Ty Zentner, Kansas State
Kickoff Specialist: B.T. Potter, Clemson
Punter: Mason Fletcher, Cincinnati
Punter: Jack Browning, San Diego State
Punter: Kai Kroeger, South Carolina
Kick Returner: Key'Shawn Smith, Miami (FL)
Kick Returner: Kaylon Horton, North Texas
Kick Returner: Jordan Byrd, San Diego State
Punt Returner: Dee Williams, Tennessee
Punt Returner: Kool-Aid McKinstry, Alabama
Punt Returner: Derius Davis, TCU
Special Teamer: Devon King, ECU
Special Teamer: Reynard Ellis, UAB
Special Teamer: Trey Kiser, South Alabama