Despite markedly different seasons, it was somewhat of an inevitability that we'd ultimately reach December and the SEC Championship Game would feature the Georgia Bulldogs and Alabama Crimson Tide — and so it has come to pass.
It's the fourth time in 10 years that Georgia vs. Alabama has been the title game, but who will take home the SEC crown this time around? Ahead of the game, we've got the latest college football betting odds, DFS picks, and an SEC Championship Game prediction.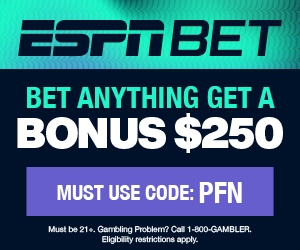 SEC Championship Game Betting and DFS Preview
All odds are from DraftKings Sportsbook and correct as of Wednesday, Nov. 29, 2023. Want to take advantage of the SEC Championship Game odds? Visit the College Football Network live college football odds page to place bets in your state.
Spread
Georgia -5.5
Moneyline
Georgia -218, Alabama +180
Over/Under
54.5 points
Game time
4 p.m. ET
Location
Mercedes-Benz Stadium, Atlanta, GA
How to Watch
CBS, FuboTV
Looking to splash some cash on the Crimson Tide? Can you ride the Bulldogs to the bank? If you're going to take advantage of the SEC Championship Game odds, consider some of the following factors before you part with your hard-earned cash.
The SEC Championship Game brings together two modern-day college football powerhouses for another exciting clash. When they kick off in Mercedes-Benz Stadium, it will be nearly two years since they last met, with the Bulldogs crushing the Crimson Tide to record their first national title in 40 years, at the same time halting a seven-game losing streak to their SEC rival.
MORE: CFB Top 25 Power Rankings
The Bulldogs started as a three-point favorite, which has grown to a 5.5-point spread during the week of the game. Although Nick Saban's Alabama team has grown into itself after a difficult start, the Bulldogs are also rounding into brilliant form at the right time. They've done a poor job of covering the spread in 2023, but Georgia's smallest margin of victory is seven points.
Alabama has covered in seven of their 10 games but has never been an underdog in 2023. The Crimson Tide are at their most dangerous when doubted, but Georgia can get the job done. Finally, both teams are 6-2 covering the points line against SEC opposition. However, the Bulldogs' last two games have come under the line, and defense would be the deciding factor here.
Top DFS Picks and Fantasy Plays
Georgia Depth Chart | Alabama Depth Chart
QB Carson Beck, Georgia 
QB Jalen Milroe, Alabama 
RB Kendall Milton, Georgia 
RB Daijun Edwards, Georgia 
RB Dillon Bell, Georgia 
RB Roderick Robinson II, Georgia 
RB Jase McClellan, Alabama 
RB Roydell Williams, Alabama 
RB Jamarion Miller, Alabama 
RB Justin Haynes, Alabama 
WR Ladd McConkey, Georgia 
WR Dominic Lovett, Georgia 
WR Rara Thomas, Georgia 
WR Marcus Rosemy-Jacksaint, Georgia 
WR Isaiah Bond, Alabama 
WR Jermaine Burton, Alabama 
WR Kobe Prentice, Alabama 
WR Malik Benson, Alabama
TE Brock Bowers, Georgia 
TE Oscar Delp, Georgia 
TE Amari Niblack, Alabama 
TE CJ Dipre, Alabama
There are eight college football games on the Saturday of Championship Game weekend to compile your DFS team from. If you're new to DFS, Fanduel Superflex contests require you to select a quarterback, two running backs, three wide receivers, and a "Superflex" that can be any of the above or a tight end.
Starting your SEC Championship Game picks at the quarterback position, the dynamic dual-threat ability of Alabama's Jalen Milroe makes him an alluring fantasy QB. After a difficult start to the year, Milroe ended the regular season as the QB13 in fantasy scoring, with his 33 total touchdowns and 2,965 yards totaling 288.94 points. He's a legitimate option for your DFS lineup.
With some of the nation's top fantasy running backs involved on "Championship Weekend," there are better options to be had elsewhere. However, Georgia running back Daijun Edwards is the prize pick from the SEC Championship Game, tallying 159.8 fantasy points this year. He's handled the more substantial workload while leading the team in yards and touchdowns.
MORE: SEC QB Rankings
Neither team has produced a 1,000-yard pass-catcher this season, with the rotation of receivers making fantasy production difficult to predict. That said, Alabama's Jermaine Burton is the WR4 in the SEC West and comes into the SEC Championship Game having tallied over 100 yards in each of the last two games, with three touchdowns in his last four games.
Prediction for the SEC Championship Game
Okay, so we've furnished you with the SEC Championship Game odds and some DFS picks. Now, it's time to close this thing out with our prediction.
Can Alabama prevent Georgia from achieving a championship in Atlanta, or are the Bulldogs set to show their teeth as the new standard-bearer in college football?
Let's start with how Alabama can win the SEC Championship Game. Unsurprisingly, their chances rely heavily on a defense that helped carry the team through the early season offensive struggles. Between Kool-Aid McKinstry and Terrion Arnold, they boast two of the best cornerbacks in the nation, while freshman Caleb Downs has been a sensation at safety.
Meanwhile, Dallas Turner and Chris Braswell have been a constant presence in opposition backfields as the program's most prominent pass rushers. As a result, the Crimson Tide have been difficult to throw on, while also allowing the third-fewest rushing touchdowns in the SEC.
Alabama has also allowed the fourth-lowest red zone conversion percentage, giving up a score on 81.82% of opposition trips inside the 20, with only 51.52% of those trips resulting in a touchdown. Saban's team has been better than Georgia at forcing turnovers, with turnover margin a potential factor in what shouldn't become more than a one-score affair.
The nature of Alabama's offense, particularly the dangerous speed of Milroe, could give Georgia some difficulties. The Bulldogs have allowed more yards per carry and rushing touchdowns than the Crimson Tide this year, despite facing over 50 fewer carries. If the SEC West champions can lean on their defense and ride the ground game, there's a chance of a shock.
That said, the Georgia defense continues to be a unit that can power a national championship run. They might lack the sheer depth of first-round NFL Draft picks we've seen in recent seasons, but led by a mix of veteran leaders like Tykee Smith and exciting young talent like Mykel Williams, they lead the SEC in scoring defense — allowing just 15.8 points per game.
The Bulldogs also share the conference lead for interceptions, have allowed the fewest yards per attempt, and their 56.1 % completion allowed to opposing quarterbacks is the best in the SEC. Furthermore, the Georgia defense has given up the fewest passing touchdowns (11) in the SEC this year.
MORE: 2023 Heisman Trophy Odds
Stopping the run might be a challenge, but if they do force Milroe to use his arm, there's the potential for interceptions that swing the game in Georgia's favor — despite Alabama holding the turnover margin advantage heading into the game.
There's a perception that the Georgia offense has been a weakness this season. Sure, they didn't blow any teams away early on, but Beck has grown into his role and has been extremely efficient. He can make things happen, and between McConkey and Bowers, he has reliable playmakers as an outlet.
Meanwhile, a double-headed monster at RB paces the SEC in rushing TDs. Between the strength of their defense and their ability to move the ball on offense, Georgia should have enough of an advantage to get the better of the Crimson Tide, taking a second successive SEC crown and a guaranteed spot in the College Football Playoff.
Prediction: Georgia 30, Alabama 24