Championship Weekend kicks off in style with the undefeated, 24th-ranked Liberty Flames hosting the 10-3 New Mexico State Aggies in the CUSA Championship Game, a rematch of a Week 2 clash between the two conference newcomers.
Will we see a repeat of Liberty's win earlier in the season, or are the Aggies primed for revenge? Ahead of the game, we've got the latest college football betting odds, DFS picks, and a CUSA Championship Game prediction.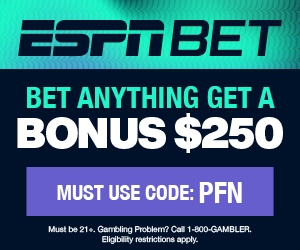 CUSA Championship Game Betting and DFS Preview
All odds are from DraftKings Sportsbook and correct as of Wednesday, Nov. 29, 2023. Want to take advantage of the CUSA Championship Game odds? Visit the College Football Network live college football odds page to place bets in your state.
Spread
Liberty -10
Moneyline
Liberty -380, New Mexico State +300
Over/Under
55.5 points
Game time
Friday, Dec. 1, 2023, 7 p.m. ET
Location
Williams Stadium, Lynchburg, VA
How to Watch
CBS Sports Network, FuboTV
Is the luck with Liberty in the title game, or is it worth placing a stake in New Mexico State? If you're going to take advantage of the CUSA Championship Game odds, consider some of the following factors before you part with your hard-earned cash.
With Liberty beating New Mexico State in Week 2, the rematch has some extremely recent history from which to draw. The 33-17 win was the fourth for the Flames in the head-to-head series, and the way they've steamrolled through the 2023 season ensures they enter the game as a favorite.
While it's difficult to beat the same team twice in a season, Liberty can get the job done in the CUSA Championship Game. But can they cover the 10-point spread line in the rematch? Despite winning by 16 last time, the Flames haven't covered in their last two games to end the 2023 college football season.
MORE: Sun Belt Championship Game Prediction
Meanwhile, New Mexico State has covered its last eight games and is 4-2 covering as an underdog. They're undoubtedly a better team than the last time they traveled to Lynchburg, knocking off Auburn and Jacksonville State to end the year. There are reasons contained within our CUSA Championship Game prediction that suggest the Aggies can keep the game closer than 10 points.
Top DFS Picks and Fantasy Plays
Liberty Depth Chart | New Mexico State Depth Chart
QB Kaidon Salter, Liberty 
QB Diego Pavia, New Mexico State 
RB Quinton Cooley, Liberty
RB Billy Lucas, Liberty
RB Aaron Bedgood, Liberty 
RB James Jointer, Liberty
RB Star Thomas, New Mexico State 
RB Jamoni Jones, New Mexico State
RB Ahmonte Watkins, New Mexico State 
WR CJ Daniels, Liberty
WR Treon Sibley, Liberty 
WR Noah Frith, Liberty
WR Jonathan Brady, New Mexico State 
WR Trent Hudson, New Mexico State 
WR Chris Bellamy, New Mexico State 
TE Bentley Hanshaw, Liberty 
TE Thomaz Whitford, New Mexico State 
There are just two college football games on the Friday of Championship Weekend from which to compile your DFS team. If you're new to DFS, Fanduel Superflex contests require you to select a quarterback, two running backs, three wide receivers, and a "Superflex" that can be any of the above or a tight end.
The Friday night lineup is a veritable feast of fantasy quarterbacks. Four of the top-15 scoring QBs in the nation are in action, and while Bo Nix and Michael Penix Jr. will dominate the media landscape, Liberty's Kaidon Salter is the top-scoring QB available and was unstoppable the last time the Flames met New Mexico State. His dual-threat capability is worth betting on.
At the running back position, Quinton Cooley has been a bowling ball for the Liberty offense and a high-scoring asset for fantasy owners. The former Wake Forest rusher has seven 100+ yards this year — including against NMSU — and has scored a touchdown in all-bar-one of his last eight games, finding the end zone three times last time out against the UTEP Miners.
If investing in big-time players leaves you needing to find value options at the WR position, try New Mexico State's Trent Hudson on for size. He leads the Aggies in receiving touchdowns and has found the end zone three times in the last five games. He's coming off a five-reception, 70-yard performance in the win over Jacksonville State. He finished as the WR10 in CUSA this year.
Prediction for the CUSA Championship Game
Okay, so we've furnished you with the CUSA Championship Game odds and some DFS picks. Now, it's time to close this thing out with our prediction. Will Liberty repeat its Week 2 win with a comfortable victory or can New Mexico State learn from the lessons and complete a fairytale season with a CUSA crown?
MORE: CUSA QB Rankings
While it's important to not put too much stock into a second game between two teams, the first Liberty vs. New Mexico State matchup does have some pointers that influence our CUSA Championship Game prediction.
The first time around, the Aggies hung around with the Flames in the first half, going in down just one score. However, their second-half offensive display turned to a shambles and they didn't score another point all game.
Pavia threw two interceptions for the second time in three games, while the team also coughed up a fumble.
The New Mexico State quarterback has been more efficient since, leading to their ascension to the CUSA Championship Game. However, he threw two interceptions in the regular season finale against Jacksonville State. He can't afford to do the same against a Liberty defense that leads the nation with 20 interceptions.
Seven Flames players have multiple interceptions, with Brylan Green (five) and Kobe Singleton (four) leading the way.
Pavia has the arm talent to pick apart a Flames pass defense that, despite flying to the ball and forcing turnovers, has also been prone to giving up explosive plays. That should help keep the game close, but the Aggies' offensive success does rely on the ground game, and Liberty has allowed just 11 rushing touchdowns and 3.67 yards per carry this season.
Meanwhile, there are not many more potent rushing offenses than Jamey Chadwell's Liberty unit. Whether it's Cooley bulldozing his way through defenses or Salter's mesmerizing athletic prowess on the move, they've established the ground game on each opponent.
The Aggies' rush defense is good, but it's not a match for the Flames' offense. Even when Salter has been contained as a runner this year, he can thread the needle into tight windows or heave it downfield as a passer. No team has been able to stop both components of his game, and New Mexico State is likely to come up short of doing so for the second time this season.
Prediction: Liberty 35, New Mexico State 27